Another awesome weekend. Made no less awesome by the fact that it started on Thursday (meaning that I worked a total of 7 days in the last two weeks).
I'll spare you the details of the Thanksgiving feast. It was pretty typical- family, friends, food. It's nice to have one holiday that isn't so much about blatant commercialization. Just about gluttony in the food sense. I'd kill myself if I had to listen to Thanksgiving carols or buy T-day presents. Even if the origins of the holiday are a little sketch, it's nice to have an excuse to get together with good people and recognise how lucky we really are. It's just a shame we can't be so thankful all year round.



5 Things I'm Thankful For This Weekend
1. My wonderful family and great friends
2. Not being anywhere near a mall on Friday
3. That there is still some spectacular wilderness left in Utah
4. Heated bathrooms at campgrounds
5. Cute park rangers that look a little bit like Casey Affleck with a beard.
Friday is when the awesome really starts. Early in the morning Dad and I packed up and headed out to Canyonlands for our annual Thanksgiving weekend camping trip. Can you believe we've indulged this insanity for 11 years! Who in their right mind goes camping in November? Anyway, as we approached Moab we noticed the clouds getting darker and the mesas in the distance were covered with something that we refused to acknowledge as snow. When we stopped in Moab for lunch it was snowing. We decided to keep going anyway- a little snow wasn't going to stop us! We're hearty adventurers (or something like)!
Not exactly great for camping. Even if the sun came out and melted the snow, and we managed to find someplace clear and not muddy for the tent, hiking around in the sludge would have been less than fun. So we turned around and headed back to the visitor's center in Moab to check on the weather and form a new plan.
We ended up camping in Arches. The problem with Arches is that is has become incredibly popular and touristy over the years. It's still a beautiful park, but it's full of people. We don't like people. In fact, on Friday night the campground was full. We're used to being one of maybe five people at the campground when we venture out on these trips. Anyway, it was still really fun, if a little cold. The sky cleared up a bit just before sunset and the rest of the weekend was sunny and clear and perfect.



Saturday after a chilly breakfast we set out to find a hike away from the multitude of people with cameras. (By the way, nothing is more "fun" in the morning than putting on frozen deodorant) Years and years ago when my dad was down in Arches by himself, he found a route up to the top of the Great Wall. We decided to replicate this little adventure. It's not a real trail so we were pretty sure we wouldn't run into anybody else. We spend the day playing around on top of the plateau- climbing out to the ends of sandstone fins and peering down into slot canyons. The entire time there was no sign whatsoever of other people. No footprints, nothing.



We also came across this very strange set of tracks: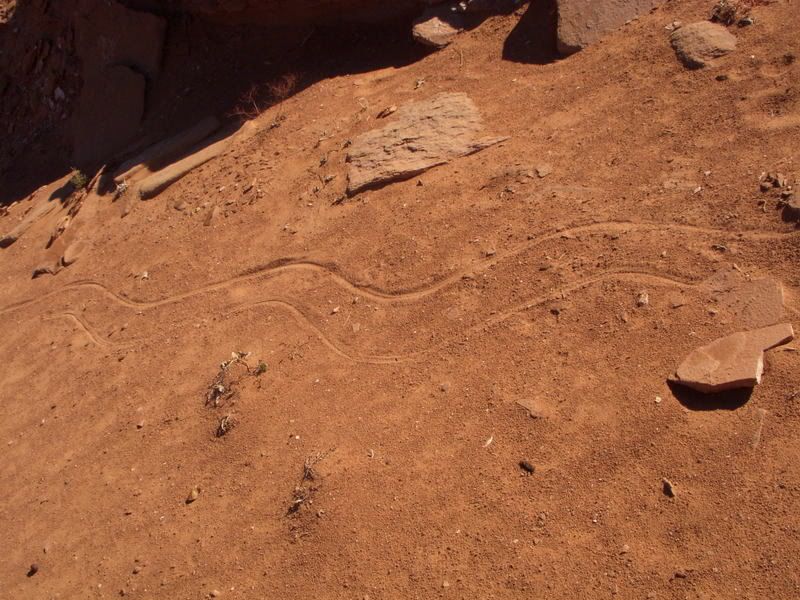 It's not terribly clear in the picture, but there are two parallel lines in a wave pattern. They go on like that for 10-15 feet before disappearing onto sandstone. They almost look mechanical, they're so perfect. There were no footprints anywhere nearby like you would see with a lizard or rodent. It's was like there were two snakes doing some sort of synchronized slithering. When we got down, we asked three different rangers (one of whom was the Casey Affleck look-a-like) what might have made them, and none of them could figure it out. Best guess? Aliens. Red ones. From the comet. With RC cars.

(if anyone who reads this has any better guesses please share them!)


After an extremely spectacular moonrise, we went into Moab for dinner. We ate at Poplar Place- the food was ok, the waitress' hair was anachronistic, the heater seemed to be broken. After food, we decided to wander around town a little. We came across a sign that read
Eh, why not? So one block late we found ourselves in a little auditorium looking at a microphone, red curtains and a 30 year old amp. There was a pretty good crowd (including Affleck Ranger Guy). The poet was ok. A bit of a ham, but that's what Cowboy Poetry is all about. He was also a little effeminate, which lent a bit of a Brokeback feel to the show. We stayed for about half.

Sunday morning after packing up the car we set out up Courthouse Wash in search of the rather difficult to find Tunnel. We had a general idea of where it was and some basic instructions on how to find it from one of the rangers we talked to on Saturday. Even so, it took about 20 minutes of wandering around the genral area before we spotted the entrance. I have to say it's pretty fucking cool. It is, well, a tunnel. It's about 15 feet long and about 4 feet high, totally naturally made (by water). It's amazing the things that nature comes up with. You probably wont appreciate the coolness unless you actually go there. Just a description doesn't really cut it, neither do the pictures.


Top 5 Really Cool Things I've Seen/Done in Southern Utah
1. Peekaboo/Spooky canyons in Grand Staircase
2. Spring Canyon in Capitol Reef
3. Rappel off the mesa into Park Avenue in Arches
4. The view of Capitol Reef from Devils Backbone (I think that's what it's called)
5. The Tunnel in Arches


And that about covers it. Don't you wish your weekend was as fun as mine? Most people get a bit turned off by the cold, but it's totally negligible next to the awesomeness of everything else we did.